Ohio State vs Michigan State Odds NCAA Basketball Picks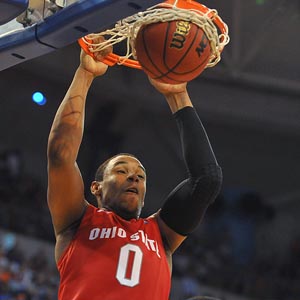 Ohio State vs Michigan State Odds NCAA Basketball Picks: In the late afternoon Big-10 conference Sunday match-up the Ohio State Buckeyes will play the Michigan State Spartans at 3:30 PM ET. The 7th ranked Buckeyes (27-6 SU 17-11 ATS) were dominant in a 77-55 win over Michigan last night as -7.5 favorites and have won two out of three over the Buckeyes this year. The 8th ranked Michigan State Spartans (26-7 SU 20-10 ATS) have looked sharp with an 8-2 ATS run over their last 10 games. Below is an NCAA Basketball Picks march madness play against the Vegas Sports Odds from our experts!
The Ohio State vs Michigan State Odds have Ohio State at -1.5 at BOVADA CASINO
NCAA Basketball Picks Analysis: Ohio State owns a 72-70 win at Michigan State but they have seemed a little off in recent outings. Despite the Buckeyes small lack of focus the Spartans took a significant hit with starter Branden Dawson lost with a knee injury and their starters will be giving up a half inch in height to Ohio State. The Ohio State vs Michigan State Odds Total is at 129.0 points.
Get the best March Madness Predictions delivered directly to your e-mail with a WINNING subscription!
The Buckeyes should be a able to take this one by a few buckets. The Buckeyes are 8-2 ATS over their last 10 games and their overall PPG average is +3.6 PPG better than the Spartans. Buckeyes 6'9″ 280 Lb. forward Jarred Sullinger (17.5 PPG 9.3 Rebounds per game) is as good as advertised and he will have a big game in the spotlight.
The Spartans are a scrappy bunch that will hang around but eventually the Buckeyes scorers will be able to overtake MSU's stingy defense. Play The Ohio State Buckeyes in your march madness picks sheet to cover for 1 UNIT ($100 to win $90).
NCAA Basketball Picks Play: Michigan State +1.5 (1 UNIT) at BOVADA CASINO
Ohio State Buckeyes vs Michigan State Spartans Odds Tale-Of-The-Tape
Ohio State Buckeyes 
Starting 5 Average Height: 6'5 1/2″
Offensive PPG: 75.1
Defensive PPG: 58.2
Free Throw %: 69.8
Rebounds Per Game: 61.3
Last 5 Games PPG differential: +8
Michigan State Spartans
Starting 5 Average Height: 6'5″
Offensive PPG: 72.3
Defensive PPG: 59.0
Rebounds Per Game: 61.0
Free Throw %: 70.1
Last 5 Games PPG differential: +8.2