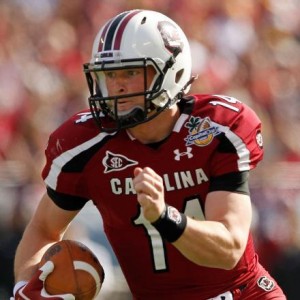 This Saturday's college football game of the week will feature the 9th ranked LSU Tigers hosting the 3rd ranked South Carolina Gamecocks at 8 PM ET. The Gamecocks (6-0 SU 5-1 ATS) are coming off a display of power after demolishing Georgia 35-7 as -1 home favorites and are listed at -3 "chalk" on the South Carolina vs LSU Odds. The LSU Tigers (5-1 SU 2-4 ATS) were handed their first loss of the season after being on the losing end of a 6-14 war at Florida as -2 road favorites. Our week 7 college football picks experts took an in-depth look at a game that has national title implications. South Carolina vs LSU Odds have LSU as -3 home favorites at -105 juice. 
Week 7 College Football Picks Analysis: The action has been pretty much split down the middle with 54% of the action on the road underdog Gamecocks. The Tigers have been thinned out on the O-line and and starting QB Zach Mettenberg has not shown that he can move the offense. LSU's running attack has been invisible and S.C. running back Marcus Lattimore should rise to the challenge of facing LSU's vicious defense.  South Carolina vs LSU Odds Total is at 40.0 points.
Wager on the South Carolina vs LSU Odds at BOVADA CASINO
The Gamecocks defense has been one of the more overlooked aspects to their successful run. S.C.'s defense is lethal against the pass and tough against the run and should have their way with LSU's shaky O-line. Gamecocks QB Connor Shaw will struggle but the "old ball coach" Steve Spurrier should have a gameplan clever enough to outscore the Tigers in an upset win.
Week 7 College Football Picks Play: South Carolina +3 (3 UNITS $3000 to win $2850)
Football Picks Record ATS: 61-45 (57.55%)